IMZ Newsletters provide you with the latest updates – directly from the producers!

The Customer Newsletter presents music and dance lovers with new releases, live streams, on demand news, previews and specials! The Industry Newsletter is the professional's business and exchange tool connecting coproduction partners, vendors and buyers. News by subject provide specific information to your area of interest.
LATEST IMZ NEWS
Join us for the IMZ General Assembly at Avant Première on 14 Feb 2017!
ABC Commercial, Anna&Paul Film&TV AB, Audiovisual Division / Naxos Deutschland, Auditorium Films, China Intercontinental Communication Center, Foxtel Networks, Michael Witte Research Management, Music Traveler GmbH, Nordisk Drama & Dokumentär AB
LATEST NEWS BY SUBJECT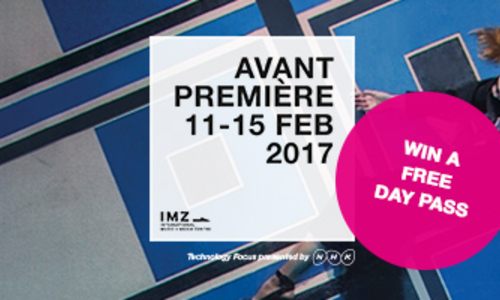 Win a free day pass, Avant Première Screening Partners C Major Entertainment and Unitel and 8K Screenings by NHK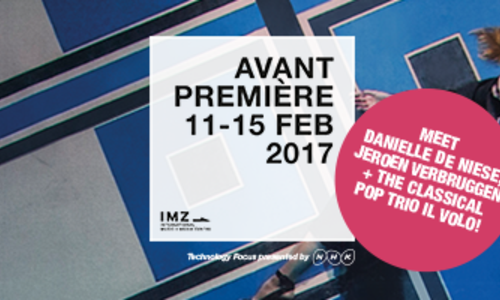 Virtual Reality Focus / Meet Il Volo, Danielle De Niese, Jeroen Verbruggen / Pitch to the broadcasters
The monthly update on business news for professionals in the performing arts and audiovisual industries: posting new productions, industry previews, calls, deadlines or job ads while connecting coproduction partners, vendors and buyers.
Your monthly update on performing arts releases, live streams, previews and specials - directly from the producers. Brought to you by the IMZ International Music + Media Centre, the international business network promoting performing arts through audiovisual media.
SUBSCRIBE TO THE IMZ NEWSLETTERS
MUSIC + DANCE RELEASES
For music + dance lovers:
Brandnew music and dance CD and DVD releases, arts programme on TV, online or live streams. Special offers and rumbles!

Be the first to know!
Get insights into the industry and see what productions are currently in the making and will be available soon!


INDUSTRY NEWS
For industry professionals:
Insights and news updates from the performing arts film industry.

Stay up to date and find partners!
Receive latest news on funding opportunities, coproduction calls, interviews or technical